Melomakarona: Delicious Vegan Spice Cookies ~ Maya Devi Georg






by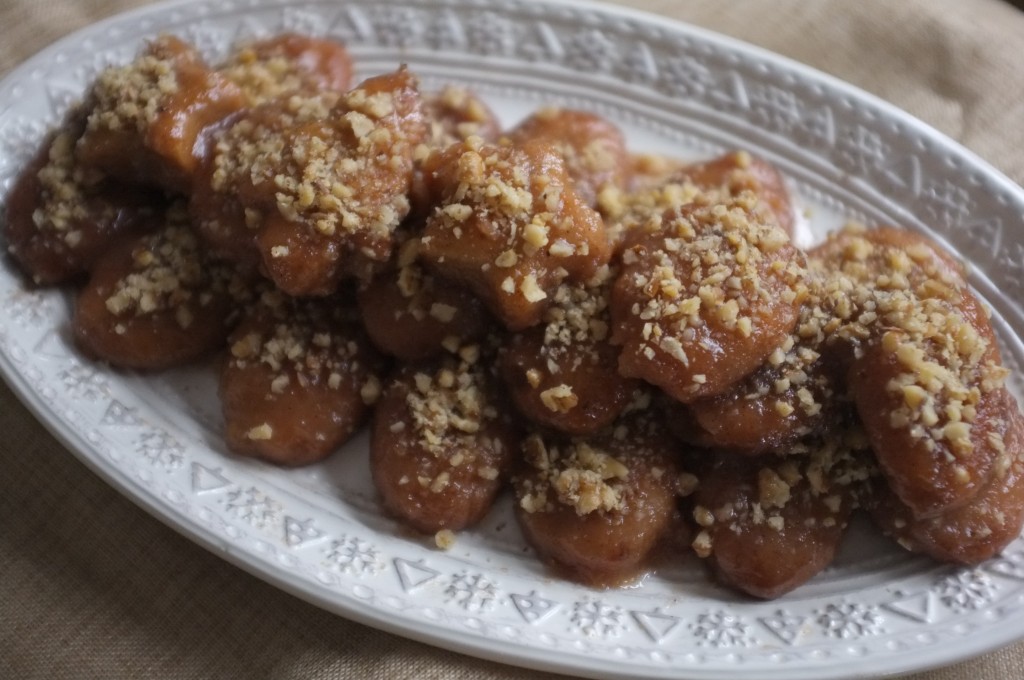 These traditional Greek Christmas cookies are delicious, and Yes! They are vegan!
Actually, most traditional Greek dishes are vegan and the Greek Orthodox Church has a fasting guide (for those who choose to observe) that is primarily a vegan diet with fish thrown in on occasion. In the days leading up to Christmas many choose to observe a fast and these cookies are a wonderful way to enjoy the season!
There are many ways to tailor this recipe to your personal tastes by adjusting the amount of spice used, or by substituting one spice for another. I have made these with cardamon and ginger, as well as cinnamon, cloves, and nutmeg, for a chai flavored alternative. Others replace the orange with vanilla extract. So, feel free to customize the recipe!
Sweetly spiced and easy to make, we hope you enjoy these cookies as much as we do!
For the cookies:
3 cups flour
1 teaspoon baking powder
1 teaspoon baking soda
1 teaspoon ground cinnamon
½ teaspoon ground cloves
¼ teaspoon ground nutmeg
the zest of 1 orange
pinch of salt
1 cup olive oil
¼ cup sugar
½ cup cognac (or brandy)
½ cup fresh squeezed orange juice (about 2 oranges)
For the syrup:
1 cup honey
½ cup sugar
1 cup water
2 sticks cinnamon
3 cloves
½ teaspoon of ground nutmeg
the rind of ½ an orange
Preheat oven to 350°F (180°C). In a bowl combine flour, baking powder, baking soda, ground cinnamon, ground cloves, ground nutmeg,orange zest, and salt. Mix well together.
In a separate bowl, combine oil, sugar, cognac, and orange juice. Mix well together.
Mix the wet and dry ingredients together. Be careful as to not overwork the dough – This can make the cookies extremely tough!
Spoon onto a cookie sheet and bake for about 20 minutes, or until golden brown.
In a sauce pan combine all ingredients for the syrup, and bring to a boil. Remove from heat and allow to cool.
When cookies are cooked (golden brown) remove them from the oven and using a slotted spoon briefly submerge them into the cool syrup.
Place on a plate and garnish with chopped walnuts or pistachios.