Vegan Apple Fritters ~ Maya Devi Georg






by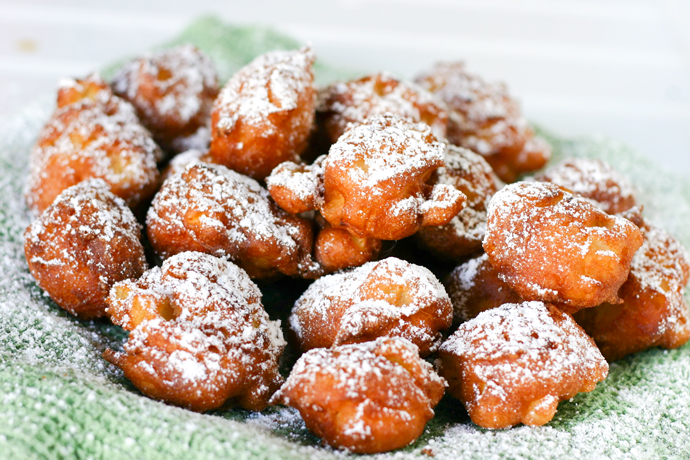 Apple fritters are really just healthy doughnuts, and making them vegan is even better! Warm and gently spiced, these tasty treats can be made as a desert or as an alternative to pancakes for breakfast.
I strongly believe that we should all play with our food! And this recipe is a perfect opportunity to play by modifying the recipe to your own tastes! You can be add raisins, orange zest, or additional spices like cloves, cardamon, or ginger.
Prep and cook time is approximately 30 minutes.
1 Apple (peeled and diced)
1/4 cup Coconut Milk or Water
1 tsp Lemon Juice or Apple Cider Vinegar
In a mixing bowl add flour, salt, baking soda and powder, and salt. Mix well. Then add orange juice and water (the mixture should be very wet, so feel free to add more water or coconut milk to achieve a soupy consistency.) In a separate bowl place the diced apple, lemon juice (or apple cider vinegar) sugar, and cinnamon. Mix well until apple bits are coated, then add to the batter. Be sure to scrape all the sugar and cinnamon goodness into the batter, as well!
Place a sauce pan over a high heat and add the cocout oil. Bring to a boil (oil should begin to smoke). Then place approximately 1/4 cup of apple fritter batter to hot oil. Reduce heat to medium. Flip the fritters when the center of the batter bubbles up (about 1-2 minutes). Cook until golden brown on both sides. Place on a paper towel to absorb excess oil while they cool.
Serve with powdered sugar and cinnamon while warm.
Should produce 6 nice sized apple fritters.