Easy Vegan Ice Cream Recipe ~Maya Devi Georg






by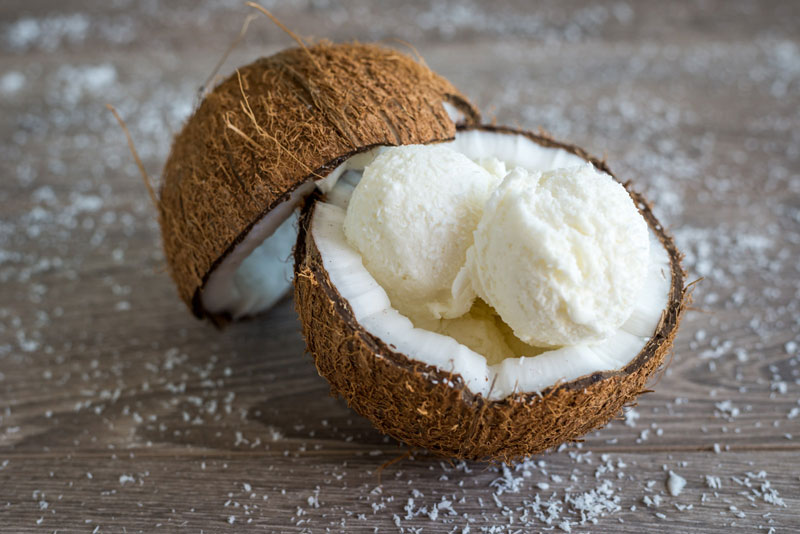 I love ice cream.
And in the heat of summer I could eat it all day, every day. However, finding delicious and dairy free ice cream is a challenge. So, through trial and error, I came up with a recipe that is delicious, easy to make, and adaptable so you can make your favorite flavor!
Just begin with the ice cream base and add whatever it is you love!
ICE CREAM BASE:
2 Baby Coconuts (if you don't have access to fresh coconuts, replace with 1 can of coconut milk)
1/4 cup Cashews
1/4 cup Water
1/4 cup Agave Nectar or Honey
pinch of salt
Add water to cashews and allow to soak for at least 4 hours or overnight.
With a large knife crack open the 2 baby coconuts, and add the water from 1 and the flesh of both coconuts into a high powered blender. Add cashews and water to blender and blend until smooth. Add remaining ingredients and blend.
When all ingredients are blended, place them in an ice cream maker. If you don't have an ice cream maker just put it in the freezer – in about 2 hours the ice cream is ready to be enjoyed!
FLAVORS:
Simply add the ingredients to your blender with the ice cream base to create your favorite flavor!
Vanilla:
1 Vanilla Bean
1/8 tsp Vanilla extract
Add vanilla bean to cashews to soak. When ready to use, slice the vanilla bean lengthwise and scrape the seeds out, and add the seeds into the ice cream base.
Chocolate:
2 tbsp Cocoa Powder
1/8 tsp Vanilla Extract
Strawberry:
1/3 cup Frozen Strawberries
Don't like strawberry? Add whatever fruit you like best!
Pistachio:
3 tbsp Pistachios
Add pistachios to water and cashews to soak.
Coffee:
1/4 tsp Instant Coffee
Gianduia:
2 tbsp Cocoa Powder
1/8 tsp Vanilla Extract
Replace Cashews with Hazelnuts
Mint Chocolate Chip:
1/4 tsp Mint Extract
1/4 cup Chocolate Chips
Chocolate chips must be folded into ice cream mixture, not blended.
Coconut:
1/4 cup Sweetened Coconut Flakes
Almond:
Replace Cashews with Peeled Almonds
1/8 tsp Almond Extract